Are you an independent girl who has this dream to travel and explore the world as a solo traveler? Do you wish to go on a memorable adventure and that too alone that you can cherish until the end of time? Traveling alone is a unique opportunity to explore the world as well as yourself in entirely new surroundings. This though can be a little bit scary prospect as well. But there is a good news for you- there are plenty of places out there that can make you feel safe and secure as a solo female traveler. And a solo trip, when in the right place, has the power to benefit you for years or even a lifetime.
Safest Places to Travel Alone as a Female
Rome, Italy
Known for its beautiful people, inspiring fashion, mouth-watering food and romance, Rome is truly a phenomenal destination that has the power to indulge all of your five senses. Walking around the vibrant streets of this beautiful city will make you feel fully present and empowered as a solo female traveler. Not to mention, there are a lot of exciting and cool things to do in Rome. Here, you can visualize the Roman Empire, in its full glory, by visiting the awe-inspiring ancient sites in the city such as Roman Forum, Coliseum and Pantheon. Moreover, you can see the pope's home at The Vatican City and Saint Peter's Basilica. Also, you can put on a pair of comfortable shoes and explore the cobble laneways and piazzas, while drinking water from the city's eye-catching fountains.
Melbourne, Australia
Praised for its artistic culture, live music and award-winning food, Melbourne is one of the best places to travel alone. Labeled as the cultural capital of Australia, the city dazzles and appeases the travelers with large parks, grassy gardens, galleries, theatres, museums, Victorian-era architecture and extensive shopping. Other than this, Melbourne can act as a base for exploring other amazing places to visit in Australia such as The Great Ocean Road, Phillip Island and Grampians National Park. Know that Melbourne is one of the safest places to travel as a solo women traveler. In fact, you can walk around there even at night on your own. Additionally, Australia is an English-speaking country and so it is easy for solo travelers to navigate and get around in Melbourne.
Amsterdam, Netherlands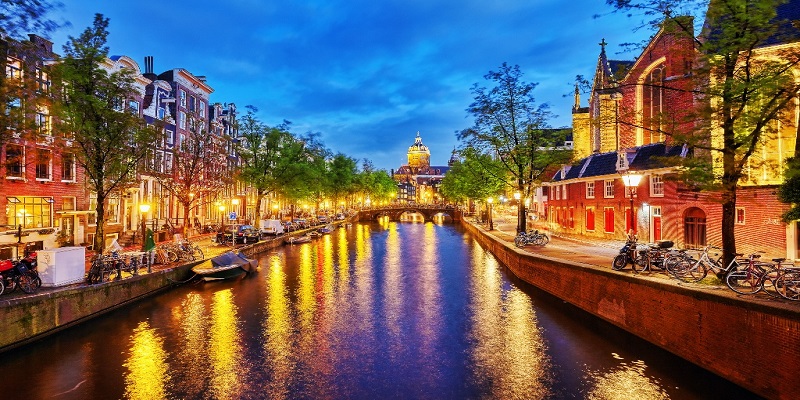 Referred to as one of the best places to travel alone in Europe, Amsterdam is a vibrant, friendly and safe city that has a lot to offer to women solo travelers. Known as the "Venice of the North", the city enthralls travelers with its marvelous canals, lovely bridges, world renowned museums and stunning architecture. Whether you want to dive into its culture and history, party or just want to enjoy the relaxing feel of an old European city, there is something for every traveler in the Dutch capital.
Wrapping up:
Whether it is by your own choice or because of your schedule not matching with someone else's, solo travel indeed is an enthralling ride that every female traveler should experience at least once in her lifetime.