Choosing the wedding dress for yourself can prove to be a frightening process. After all, it's the most expensive dress many women will ever own. Other than this, there are certain other reasons as well which makes the entire process of selecting the perfect wedding dress a stressful one! First of all, there are just so many options out there that it can be quite overwhelming. Secondly, there happens to be so much pressure while choosing a dress which is supposed to make you feel (and look, of course!) like the most beautiful you have ever felt!
So, together with some of the Bridal industries very best members, we have put together an amazing guide to help you choose your perfect wedding dress. You can keep it saved to your computer or phone so it is readily available whenever you may need it!
Do Quality Research to Find What You Really Like
Explore on Pinterest, click through bridal boutiques online, take pages out of magazines, and check out what celebrities are wearing recently in order to assemble a visual file of your favorite dresses. Then look for a connecting theme – are they lacy? Very embellished? Have open backs? Voluminous? Seek a couple of commonalities of styles that you like and bring your ideas to your first appointment. Go to the bridal shows, speak to the experts, but also indulge in a little low-key bridal inspiration that requires you to do no more than turn the page.
Shop True to Your Size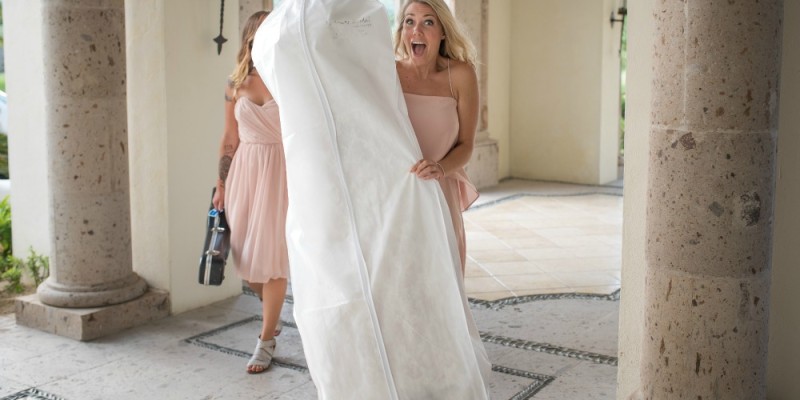 You may be exchanging cupcakes for celery sticks in the last 6 months before your D-day, but that doesn't guarantee that you will surely lose weight. Even if you do manage to lose some weight, it won't change your entire build. So, make sure to shop for dresses in your present size instead of going for a smaller size. If need arises, adjustments can be made closer to the time. Remember that it is much easier to take a dress in than trying to work with one that is way too snug. Moreover, this also takes away the pressure of needing to lose weight to fit into your wedding dress. Keep in mind that beauty come in all shapes and sizes, and so do the perfect wedding dresses!
Take into Consideration What Your Partner will be Wearing
A conversation with your other half before you decide on your own outfit is highly recommended. It is just to get an initial sense of their style goals for the special day. We agree that this entire thing is supposed to be a secret, but would you be happy to see him in a relaxed linen suit when you have turned up in an expansive tiered tulle gown? All the factors need to be considered if you want your looks to chime together, instead of looking as though they have been chosen independently.
Wrapping up:
With all the eyes on you, not to mention the photos that you'll keep forever, for sure, you want to look perfect on your big day. And for this, it is really important you pay extra attention in choosing your dream wedding dress – the one you'll love today, on the D-day, and in 20 years from now when you look back at your wedding photographs.