Since ancient days, rose water is being used to treat acne and its scars. Acne forms when the sebacius glands underneath the skin produces excess sebum which gets trapped in the skin. Rose water not only cures and prevents acne but also fades away the wounds left by them. This is one of the natural remedies that works gently on the skin and cures it.
Benefits of Rose Water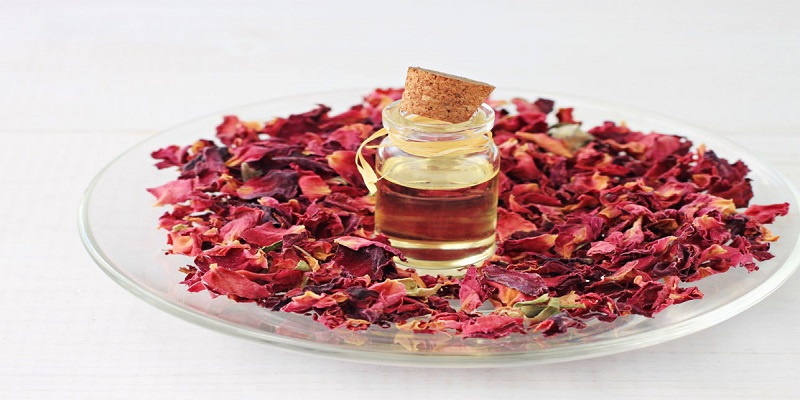 # Even if the concentration is more, rose water in itself is very gentle. Thus, people of all skin type can use this including the sensitive skinned people as well. Also, rose water unlike other chemically loaded product, doesn't cause damage to the skin or skin redness.
# Rose water possess anti-bacterial and antimicrobial properties that help in treating pimples and acne. It also fades away the scars on the skin left by acne.
# Rose water works like a skin toner as well. It also tightens skin pores reducing fine lines and wrinkles.
# Other than curing acne, rose water has many other skin benefits. It maintains the optimum pH balance of the skin naturally without any chemicals.
Some Face Pack Remedies to Treat Acne Using Rose Water
Although there is no recipe in which you cannot use rose water, we have shared some remedies that contains ingredients to cure acne.
Lemon Juice and Rose Water Pack
Lemon juice is quite effective in treating acne and also fading away the scars left by it on the skin. Mix the lemon juice with rose water in equal proportions and apply to your clean face. Leave it for 10 minutes, followed by rinsing well. Note that leaving lemon juice on the skin for much time can irritate your skin and make it dry. One should also patch test this pack before applying directly onto the face as few people can be allergic to lemon.
Cucumber, Honey and Rose Water Pack
If you are someone who is allergic to lemon, then instead try using this pack. Mix cucumber and honey with rose water and apply it all over your face. Leave this for 20 minutes and then rinse it well.
Sandalwood and Rose Water Pack
Sandalwood has the tendency to absorb the excess oil or sebum from the face. Thus, it is quite effective in curing acne. Make a paste of some sandalwood powder and rose water in a ratio of 2:1. Apply this paste to your face and leave it till it dries out completely. Then rinse it well.
Gram Flour and Rose Water Pack
Make a paste by mixing some gram flour with rose water. Apply this to your face and leave it till it dries completely and then wash off.
Fuller's Earth and Rose Water Pack
Make a paste of some fuller's earth with rose water and apply to your face evenly. Leave it till it dries out completely, followed by rinsing it well.